Easy road trips within Hanoi for a weekend traveling on a whim.
There's not much left of warm and fuzzy weather to go out on whim to travel around, so here are some places to go in proximity to our Toan Tien apartments.
But what is going on a whim? It's a trip that takes you 5-10 minutes to get ready to go out. If you go solo, you don't intend to go on such a trip until Saturday morning. If you go with a friend or more, sure you'd have to get your crew onboard during mid week. 
Ba Vì National park
The sole national park in the vicinity of Hanoi, from the Kim Ma, Dao Tan area you go straight west for 40 km to reach Son Tay, then turn left for another 10 km to reach Ba Vi national park. 
The national park is a mountain range that reaches 1200m elevation, with swaths of pristine forests, and  various attractions along the mountain pass. It's a place to climb the mountain. It's the sacred mountain range that is attached to the folklore of the country's earliest time.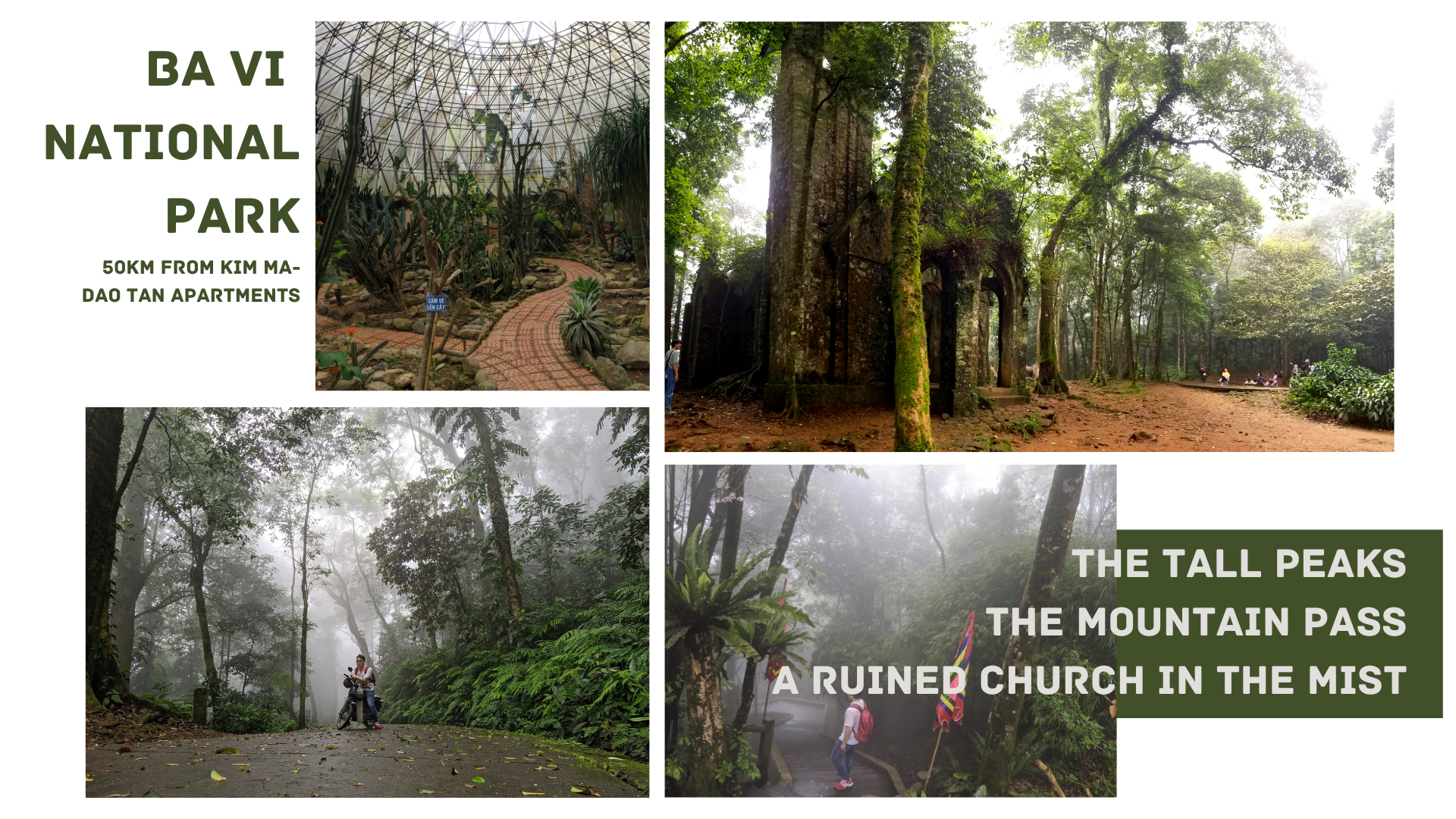 As soon as you paid the ticket for you and your vehicle, you get into the mountain pass, climbing all the way to 1000m elevation, along the way you can detour into several attraction such as a botanical dome, a ruined church under the misty canopies, evergreen pine forest camp site, clouds coming at you until you reach a flat at around 1000 m elevation to park and the be on foot to the two summits of the range, with brick routes so there's nothing to worry much.
It is cool to go there solo, on a motorbike, or on a bicycle. Our resident Claudio goes there almost every weekend, racing his bicycle from West Lake resident at 5:30 in the morning, all the way to the end of Ba Vi mountain pass, downhill and straight back home at noon. Heck of a climb, because the mountain pass can even make a motorbike growl tiringly. 
 Trung's tip for a solo trip to Ba Vi is a bendable tripod to hook your camera anywhere.
Traveling along the Red River's banks
The Red River road trip starts at either Long Biên or Chương Dương bridges, a few turns away from Tropical House.
 You can go cycling with a team, or on bike going solo, in different directions- left or right bank, up or down the stream. Is there a place in mind that you'd like to find a way to or you are just curious about a temple by the river, and just go there… So many options. Ferry across the river is awesome, you are so close to water and as if standing still surfing.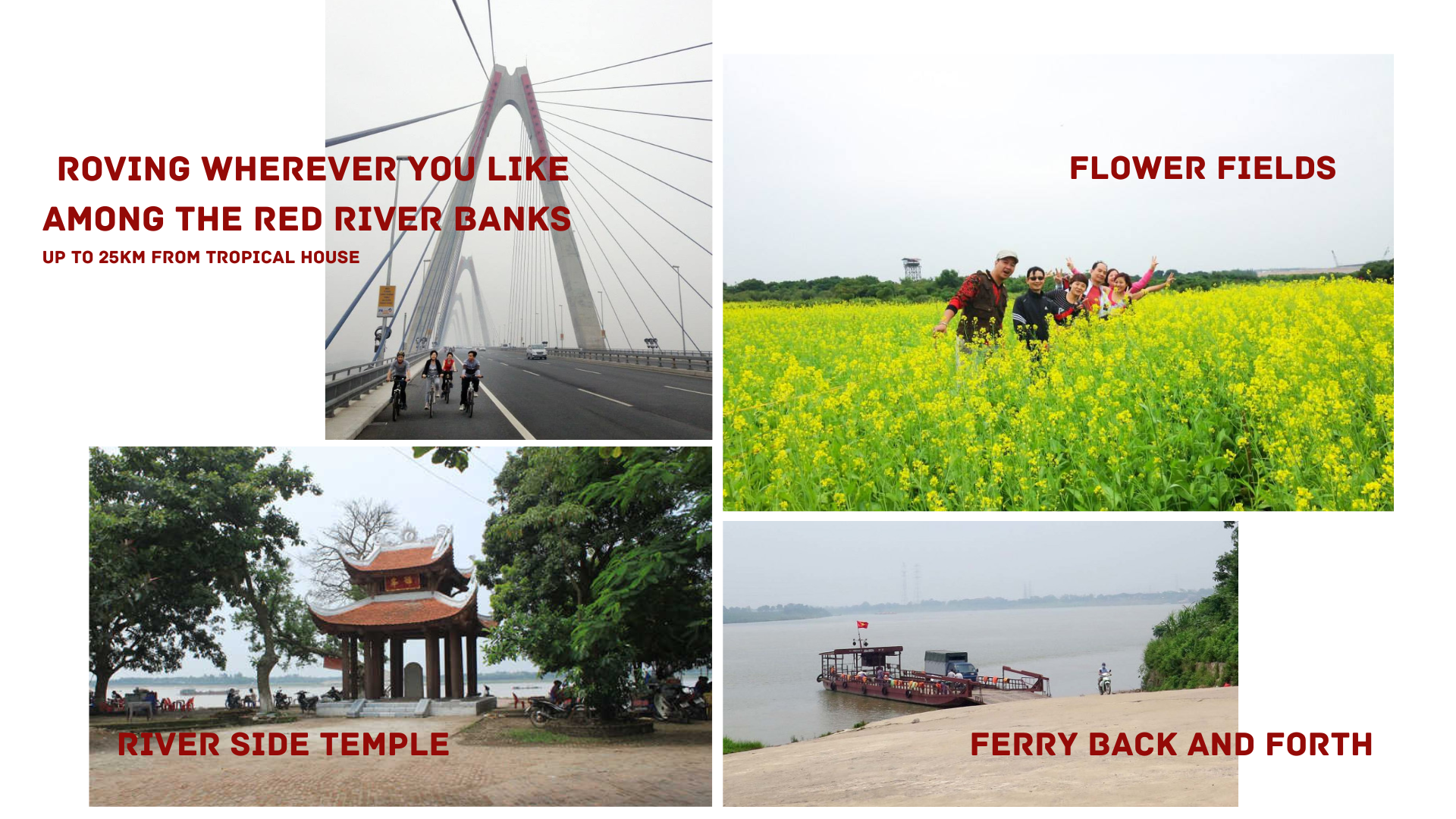 There's the Chu Dong Tu - Tien Dung  temple right by the left bank of the Red River, 27 km from the Tropical House. Chu Dong Tu - Tien Dung, a love story between a princess and a young fisherman that had a very wet first met. The temple is broad and there are steps leading right into the water.
If you have trailed that far can also cross the river back and forth to go back to Hanoi, onboard a very short ferry which can also transport cars. It's so short that you can dip your hand into the water. 
Hiking in mount Hàm Lợn
If you have enough hiking gear, you can just pick them up and go hiking. There are several  routes with different landscapes to reach the top of Ham Lon mountain. The trails can go from mediocre to quite hard, But everything goes from quite hard if you go during peak summer
A place for hikers to greet each other. 
Out of a whim you can also just go camping overnight in the pine forest because the whole camping experience can be bought on site. 
What are the cool things in many lakes to the west of Hanoi? 
Lake Dong Mo is beautiful, bigger than West Lake, 40 km from Kim Ma, Dao Tan apartments, it's there to find the most picturesque corners. The lake is also said among astrophotographers that the sky over Dong Mo lake is dark enough to see the Milky Way with your eyes and long exposure photographing of the Milky Way. There are campsites and lodging to stay, but it's a bit of searching for lunch. At least there's a Japanese resident of ours like going there fishing during weekend daylight.
This corner of Dong Mo lake  has Ba Vi mountain range in the background, islets, dyke road, and dazzling light.