Here are the Toan Tien apartment clusters in Hanoi's great neighborhoods.
The first factor of building a serviced apartment is the location. You can have a handful of good neighborhoods in the heart districts of Hanoi - Ba Dinh, Tay Ho, Hoan Kiem, Hai Ba Trung. Then there are several locations that fit. We dealt with the landlords to build quite a few buildings in each area. 
Having multiple buildings sitting closely is nice logistic-wise, our staff don't have to travel far to go between apartment buildings for whatever the work it could be - regular cleaning service, the guard looking after two buildings at once, a present run to the resident is more compact as well.
Let's list them out 
Quang Khanh, the better part by the West Lake to live in
Not every part by the West Lake bank is similar, The heaviest traffic part Trích Sài connects Lạc Long Quân and Văn Cao, which its next lake bank is rather sporty with a rowing center. And the most idyllic part is indeed Quảng Khánh near Phủ Tây Hồ.
The road is nice, while the traffic is light, the water is pretty, everything seems to calm down compared to Trích Sài, such a place to build serviced apartments.
Keeping up well with the landlords in the Xom Chua alley, a recess from the lake bank, we managed to build multiple high end apartments either a short walk to the lake bank or being high floor enough to catch the panoramic view of the West Lake, and a big lotus lagoon by Phủ Tây Hồ. Love the kids playing there in front of the buildings, and the runners, the runners with dogs passing by.
Here's a collage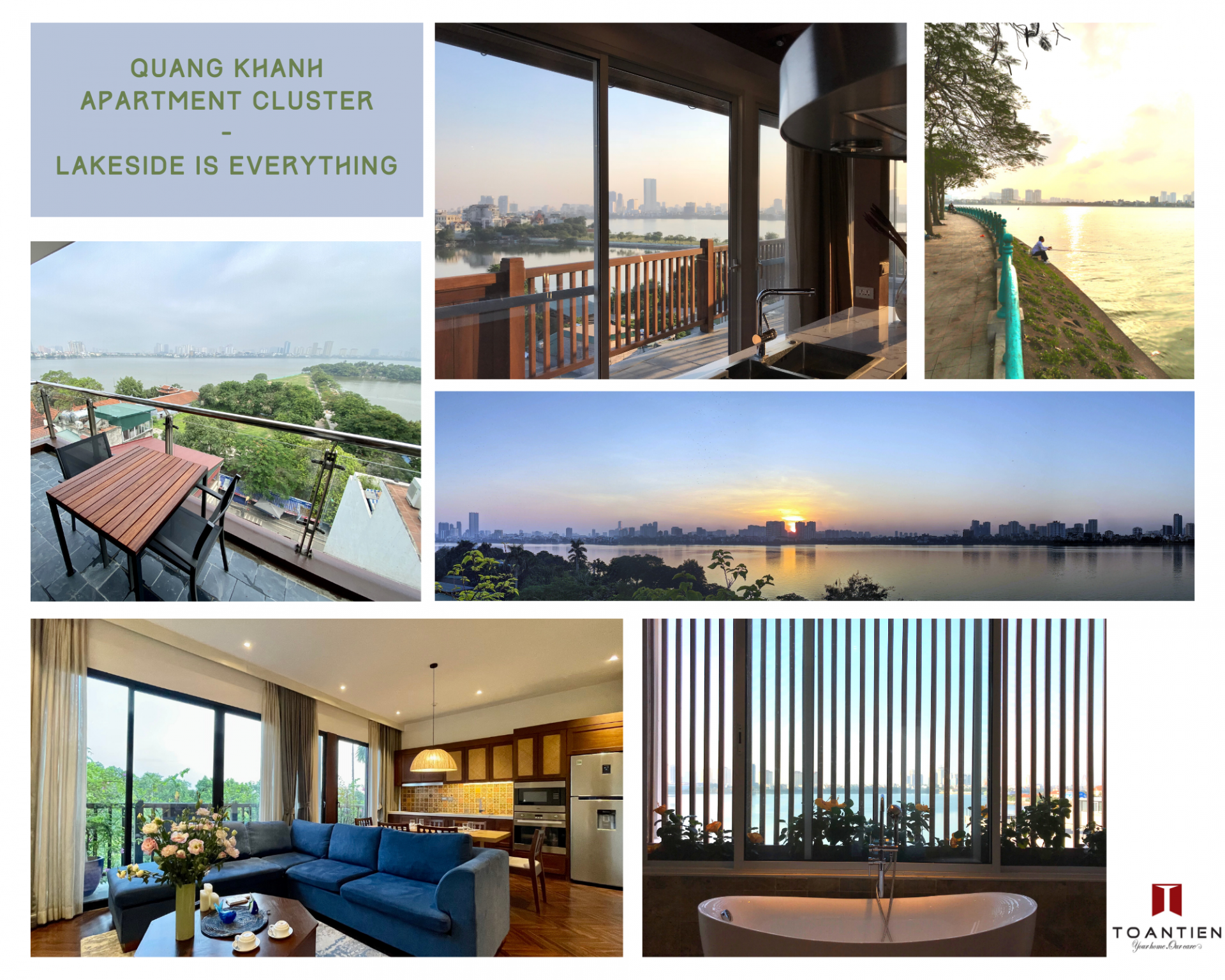 To Ngoc Van apartment cluster, being next door to many chic places


If you are okay with living near the west lake, just a short walk through an alley to go, not adamant to have a lake view, the Tô Ngọc Vân neighborhood is nice. First time getting to our flagship apartment 19/45 can be a maddening cuz the alley 45 is not on the main axel street, but in a stem road leading to Union Quang Ba hotel. 
And one thing, stores located in Tô Ngọc Vân cannot afford to look mediocre. They look as chic, and as diverse as how the businesses selling to young, left wing foreigners would look like, also there's a high concentration of pet related stores.
Nam Trang apartment cluster
That's the island life in the heart of the city would look like. The apartments in Ngũ Xã village are virtually  located on an island in the corner of Truc Bach lake. The streets where we have our apartments are so quiet, and covered with some very aged trees. Our close resident said she love eating around this place, whether some very good phở, or something Italian. And our office is so familiar with good places to eat for lunch as our former office was there.
Nam trang apartments offer some great vantage points. Being higher than the neighboring houses, our apartment there has views of both Truc Bach lake and the West lake.
Dao Tan and Kim Ma clusters.
At night In the pre-pandemic hey days, if you had walked along the streets around here well dressed, neat but a bit rush mannered, you would have gotten a bow greetings from the girls at the door of Japanese lounges. 
Dao Tan serviced apartments cluster is five minutes walking across Dao Tan street, Thu Le lake park and the Kim Ma street to Kim Ma cluster. Alley apartments yes, but the Kim Ma cluster features some lakeside apartments as there is another lake Ngọc Khánh, How cool is that the Kim Ma apartments are sandwiched by two lakes. 
Living here, check it out on the map to feel confirmed that this area is indeed convenient to travel anywhere in Hanoi - it's right in the middle of the urban western end and the Red River bank of the city. From there it's easy to take a bus to anywhere in Hanoi, and equally convenient to go to the airport, Hoan Kiem, or the city's western district. It's near the Japan embassy as well, so it's a magnet for Japanese.
Our apartments there feature single bedroom apartments and the higher floor two bedroom apartments. And they are made for a bachelor life of Japanese salary people having a work period in Vietnam - not necessarily big, but well equipped, feel warm, and convenient to move around. And the secondary bedrooms are typically tiny, due to space constraint.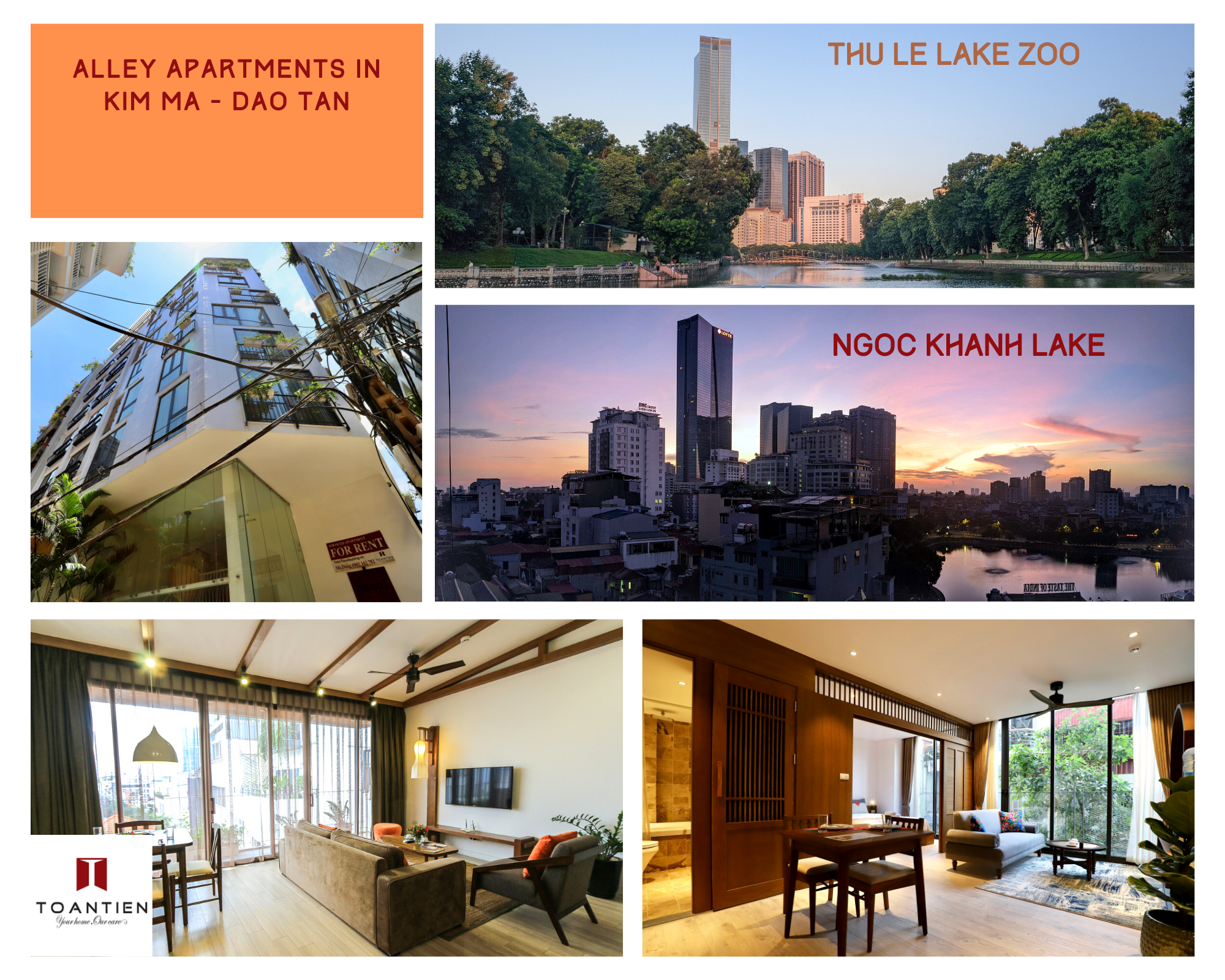 With many standout features of each location we have an apartment cluster on, which neighborhood would you like to live in?