Sweet Luc Ngan Lychees
Located 40 km east of Bac Giang city, Luc Ngan is a mountainous district endowed by nature with many beautiful landscapes such as Khuon Than lake, Cam Son, Lang Thum dam, etc. The climate of Luc Ngan is quite mild with a warm background. Luc Ngan is also known as a locality with many famous products, which are Luc Ngan Lychees.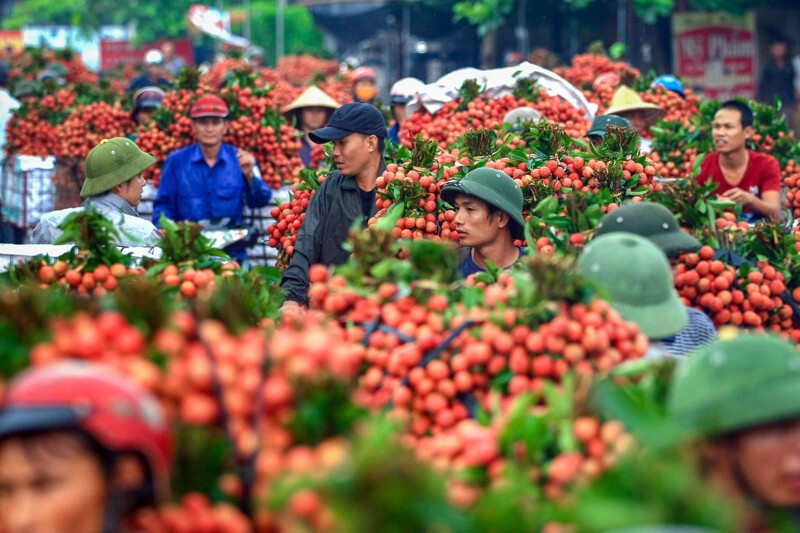 From Bac Giang city, straight to Highway 31, it takes about 1 hour by car to drive us to Chu town in the center of Luc Ngan district. If you come to Luc Ngan around March, you will enjoy the poetic scenery of Luc Ngan when litchi flowers bloom white on the hills and in the distance looming the roofs of local people. But in the period from the end of May to the beginning of July, Luc Ngan becomes extremely crowded and bustling because the lychee is already in the harvest season. At this time, standing anywhere on Luc Ngan land, looking out into the distance, you will also see the image of ripe red litchi bunches lying on the tree. This is also the busiest season for Luc Ngan people of the year. Because in Luc Ngan, there are at least a few dozen litchi trees, many hundreds or thousands of trees. Everyone is focused on the lychee harvest and the sweaty faces of the labor still reflect the joy of the harvest after a year of hard work. Currently, the whole Luc Ngan district has about 20,000 hectares of lychee per year with an output of about 60 to 70 thousand tons. Luc Ngan Bac Giang lychee is popular throughout the country, so in the season, traders from many provinces such as Hanoi, Quang Ninh and southern provinces such as Ho Chi Minh City, Da Nang ... come to buy. Lychee is also exported to a number of other countries such as China, ASEAN countries and processed into dried lychee, canned for export and serving lychee lovers that can be enjoyed all year round. At this time in Luc Ngan, many local people's lychee purchasing agents were formed at points in Chu town, Phuong Son commune, Qui Son, Tru Huu.... These agents will buy fabrics from people in the area and then sign contracts to sell them to traders from other places.
      Lychee was grown in Luc Ngan around the 90s of the last century by farmers from Hai Duong origin. With diligence and diligence, Luc Ngan people have turned the previously arid hills into vast canvas hills, bringing prosperity to litchi growers. The litchi tree in Thanh Ha, which is famous for its delicious taste, is grown in the red soil mixed with gravel in the temperate climate of Luc Ngan, creating a delicious fruit that makes people enjoy. It can be said that the level of deliciousness of lychee has surpassed Thanh Ha lychee and won the hearts of fruit connoisseurs at home and abroad. Luc Ngan lychee fruit is characterized by its red color when ripe, thin skin, small seeds and thick pulp when eating lychee, it has a sweet taste that makes people want to enjoy more and want to buy a lot as gifts for loved ones.
      During the journey to Luc Ngan to visit the land and enjoy the delicious taste of famous lychee, you can visit Khuon Than Lake located 10km from Chu town. Khuon Than Lake is 240 hectares wide with many floating islands with peaceful beauty, cool climate surrounded by green pine hills all year round. At Khuon Than, you can stroll on the lake by small boats and visit the farms of local people. From Chu town, you can also go more than 35 km to Cam Son lake, visit a cold water fish farm, camp on the island and you can be amazed at the poetic beauty of the lake….
Toantien Housing
Address:  No 11 Ton That Thiep, Hoan Kiem District, Hanoi
Hotline: 0934 489 484