If you are on a vacation or have to go on business for a few days or months but don't want to interrupt your training. Gyms were opened abound but do not know good gyms, high-class gyms for training. So today, Toantien Housing will show you the top 4 prestigious and high-end gym locations in Ba Dinh District - one of the central districts of Hanoi city.
ELITE FITNESS
Founded in 2010, after more than 10 years, Elite Fitness has affirmed its name and became a system of 15 leading 5-star sports clubs with international standards, owned by a Vietnamese company. Elite Fitness is a name that is no stranger to everyone, famous in the fitness world for the upper class.

Source: elitefitness.com.vn
This is also a place that provides rental service for personal trainers (PT) who have professional skills and knowledge, even famous faces in the sports industry. PT will provide exercises and advice to suit the needs as well as the condition of the customer. Not only the instructor of exercises but PT are also nutritionists, adjusting meals accordingly and closely with each meal.
Elite also owns extremely high-end and modern facilities, Elite Fitness's machinery and equipment imported by two world-famous brands of Technogym and Life fitness are extremely expensive and classy. Besides, when registering as a member of the club, you will experience other services such as shower systems, towels, drinking water and very attractive personal training programs.

Source: elitefitness.com.vn
Currently, Elite Fitness also has a lot of incentive programs for women such as Elite Women - exclusive training programs for women exclusively from Elite, Zumba dance classes are extremely exciting. Especially the Livestream elite women sessions, invite speakers who have professional knowledge such as doctors or KOL to share experiences and knowledge so that women are always healthy and comprehensive in all ages.
Address: 6th-floor Vincom Nguyen Chi Thanh, 54 Nguyen Chi Thanh, Hanoi
Opening hours:
- Mon-Fri: 6:00 - 22:00
- Sat-Sun: 7:00 - 20:00
PULLMAN HANOI HOTEL
Pullman Hotel - a famous 5-star hotel chain, is not only present in Hanoi but also in many major cities and provinces such as Da Nang, Ho Chi Minh City, Phu Quoc, ... With a 5-star standard, Pullman owns a very modern gym, spa system, and modern equipment.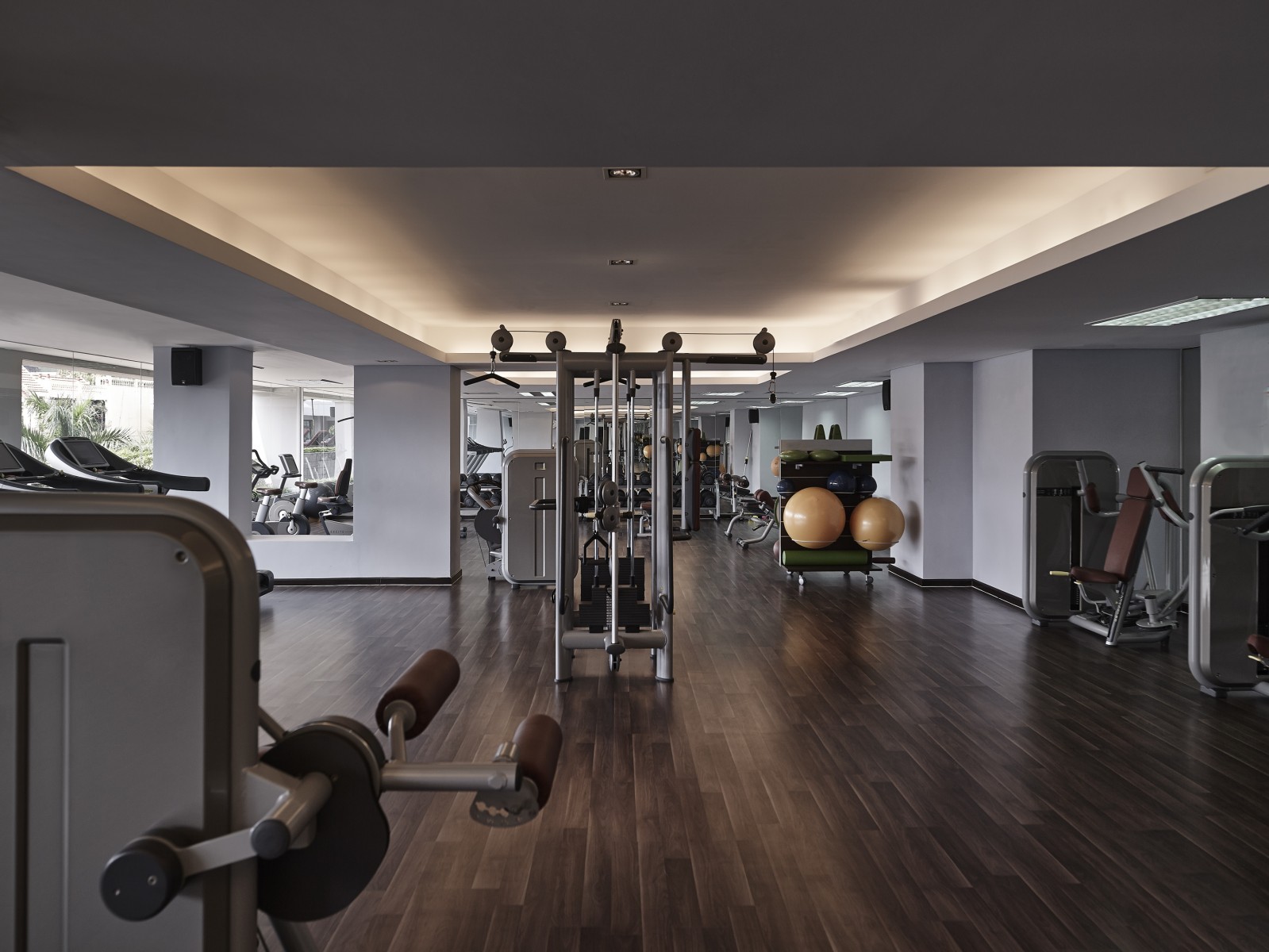 Source: Pullman Hanoi
If you have a business trip in Hanoi and near the Ba Dinh area, the gym at Pullman Hotel is the ideal choice for physical training as well as relaxation after tiring working hours. Fit and Spa Lounge area is built with many facilities such as Fit lounge, Spa lounge, Swimming pool, tennis court.
Address: 40 Cat Linh, Hanoi
Opening hours: Fulltime
DAEWOO HANOI HOTEL
Hanoi Daewoo Hotel is also a 5-star high-class hotel, one of the hotels with the largest number of rooms in Hanoi. Possessing many attractive facilities such as swimming pool, garden, restaurant system, cafe; sports, entertainment, ...
The spacious sports center is equipped with specialized training equipment, weight training machines, weight training machines, ... all machines are imported with high quality. In addition to the gym, the sports center also has a sauna, sauna, jacuzzi, hot tub and mini-golf course.
Source: Hanoi Daewoo Hotel
Address: 360 Kim Ma, Hanoi
Opening hours: 6:00 - 22:00
LOTTE HANOI HOTEL
As an international 5-star hotel in Hanoi, Lotte Hanoi Hotel owns the largest and most magnificent sports center, with a total area of 1680 square meters. This can be said to be one of the hotels with the most beautiful gym in Hanoi.
Source: Lotte Hotel
The sports center is divided into several small areas: gym, yoga room, indoor golf course, sauna, hot tub, basketball court, promenade and outdoor swimming pool. The gym owns the completely imported equipment of TechnoGym, the most advanced and the most advanced. Equipped with a full range of exercise machines and fitness supplements.
Source: Lotte Hotel
Address: 54 Lieu Giai, Hanoi
Opening hours: Fulltime
Toantien Housing
Address:  No 11 Ton That Thiep, Hoan Kiem District, Hanoi
Hotline: 0934 489 484