Top most popular online food ordering and delivery applications today
Online food ordering and delivery applications are becoming more and more popular in the current era of technology and the internet. Especially in a time when the epidemic is still complicated, these applications are the saviors for shops, restaurants, businesses and customers. Sitting right at your home or apartment and you still have hot food or don't need to go to the market, what's better!
NowFood
Food delivery application Now is trusted by many customers because you can order food on the app, on the web and even shopee. Known as the first name to appear in the Vietnamese market, Now still maintains its position by constantly improving features to help customers easily order items, order in groups, many shipping incentives and above all, fast delivery.
NowFood has more than 3,000 restaurants across the country, from "luxury" restaurants to sidewalk stalls. If you find it too difficult to choose, NowFood will also help you filter out the most popular dishes and places, so that you can update the eating trends of foodies without worry. Fear of being behind the times.
On the other hand, NowFood also regularly updates many discount deals every day, which can be up to 50%. Therefore, when you have this online food ordering app on hand, you can consider that you have mastered the secret of delicious food without worrying about the price, while being convenient and fast.
Grab
Grab was one of the first ride-hailing apps in Vietnam, but has now developed online food ordering, delivery and shopping services. Grab's shipper force is very powerful, so you will not spend much time waiting for a driver to receive your order.
Not only ordering food, Grab even goes to the market for you. You just need to sit at home or in your apartment and wait for fresh food and ingredients. Just recently launched by Grab, at the right time when the epidemic broke out, people were afraid to go out, so this service has won the hearts of consumers because of its convenience, speed and prioritization of customer experience. The goods are completed very well by the Grab team.
Baemin
A new name that has just appeared in the Vietnamese market was launched in the Vietnamese market on May 14, 2019. The main feature of Baemin application is ordering food online through mobile applications, similar to GrabFood, Now, Go-Food, etc. Based on linking restaurant partners, posting products and food , drinks, customers can choose food and have it delivered to their place.
Although it just debuted, Baemin also left a good impression on customers because of the professionalism, agility and cuteness of the shippers. In particular, Baemin has very diverse and new media campaigns, attracting a lot of public attention. However, because he is still a new character, Baemin does not have many addresses and restaurants as diverse as NowFood or GrabFood.
Gojek
Gojek is a name that is still quite new to Vietnamese users, but in fact this is a brand that has merged with Go Viet to increase competitiveness in the market. It is thanks to this feature that Gojek understands clearly the characteristics of consumption and food preferences in the Vietnamese market, strongly hitting the food delivery segment to dominate the number one position.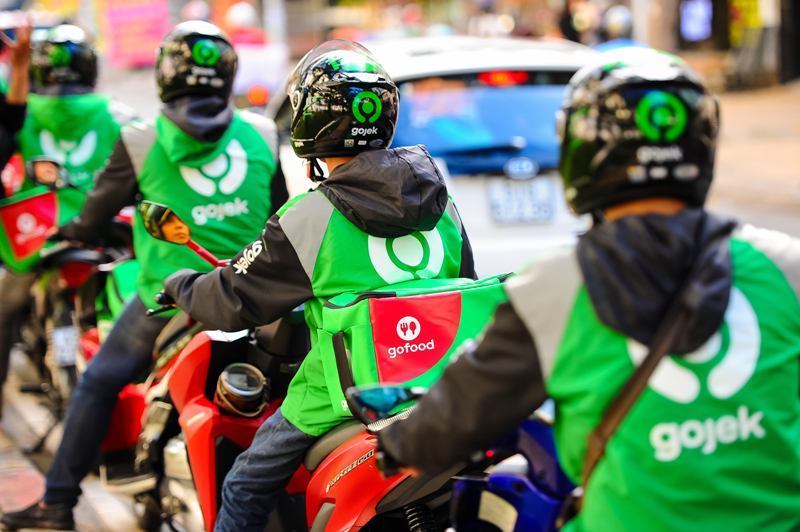 Loship
Loship is a "brand new" member developed based on Lozi's sales app platform to expand its shipping business.
Two big areas that Loship "hits" the focus, are milk tea and fast food. That means if you are the "gut" of famous names like Royal Tea, Koi Thé, Phuc Long, Bobapop, etc. or Lotteria, KFC, Popeyes, Domino's Pizza, Pizza Company, etc., then you will surely Loship cannot be missed! Loship's strength is its fast delivery time, which according to this online food ordering application, is proud to be "Committed in 1 hour", free shipping and often big discounts for guests.
Ahamove is a delivery application developed by Fast Delivery company - one of the number 1 startups in Vietnam in the field of transportation. Initially, Ahamove is oriented as an inner city delivery service on mobile applications. However, as the market expands and becomes more diversified, consumer demand also increases significantly. Then this brand also officially encroached into the service segment, from food, drinks, food to cosmetics or fashion items, etc.
Although it is impossible to be comparable in terms of scale compared to competitors who focus on developing their own food and drink orders, many young people still choose Aha and are satisfied with the service values. service provided by this brand.
Source: KAMA software, sapo.vn
Toantien Housing
Address:  No 11 Ton That Thiep, Hoan Kiem District, Hanoi
Hotline: 0934 489 484